The Hall, Units 6 & 7 Sydney House,
St. Cuthbert's Way. Newton Aycliffe DL5 6DX
Monday 6.00-7.30pm
Wednesday 6.00-7.30pm
Saturday 10am to 12noon (Fight Training)
First session FREE

Contact Chris 07572 614466 or Michelle 07789 502173 for more details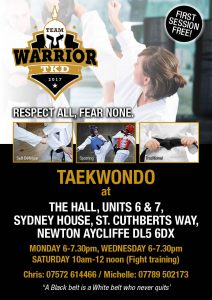 ---
Aycliffe Celebrate 4th Anniversary

Team Warrior TKD Aycliffe celebrated their 4th Anniversary on Sunday 2nd June with the traditional ten pin bowling afternoon at Planet Leisure in Newton Aycliffe. The afternoon ran smoothly thanks to the staff at Planet Leisure, who helped with the organisation of this event.
Team Warrior TKD, who were previously based at Aycliffe Village Primary School, have just moved to new premises, in a fully matted, air conditioned training hall in Sydney House (previously Newton Press building). The new facility is excellent and has had very positive feedback from all of the taekwondo students.
This growing family run club caters for all ages from 5 years.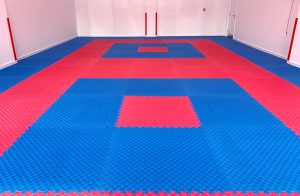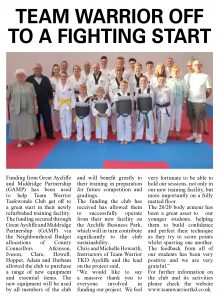 ---
Lesson Content
Lessons will be structured around the art of Taekwondo, learning how to Kick, Punch, Block and Correct Movement, but will also include:
Fitness
Flexibility
Balance and Co-Ordination
Self Defence
Pad Work
Sparring
British Taekwondo Grading Syllabus
One Step Self Defence
One Foot Sparring
and Fun
---
Rules of the Dojang
(Training Hall)
You MUST BOW on entering and leaving the Dojang
No jewellery to be worn (except wedding bands)
No chewing gum
Never lean on walls, fold your arms, put hands in pockets or lay on the floor unless part of an exercise
Your Dobok (uniform) must be clean at the start of every lesson,
Toe and finger nails clipped
No talking whilst the instructors are, unless answering a question
Do not leave the Dojang or take a break without permission